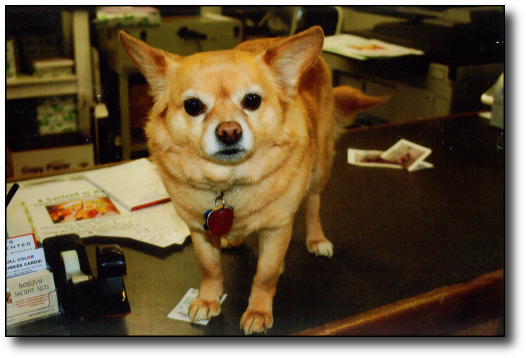 We asked Milo to tell you the 10 things about him everybody should know, this is what he said:
Cali the Cockapoo is cute.
I love it when the customers talk baby talk to me.
I'll bark at you in the morning, but by the afternoon I'm too tired.
Do you have any bacon? I like bacon.
Sometimes little kids scare me, but in the end I like them if they are gentle.
Will is the best person ever ... no, really, I mean EVER
I once lived on the streets of Boston as a homeless dog, since then I've become Will's best friend and the Copy Center's official greeter!
I like to be picked up, but being shaken scares me. So don't shake me, okay?
My biggest secret is that I love doggie treats, but most of the fun is in guarding my treat! Don't be insulted if I don't eat what you give to me right away.
If you bring other dogs to see me I get really happy! I like to meet new friends.
Since the big move to the new location on Main Street people keep asking me "So Milo, how do you like your new digs?". I'm happy wherever my daddy is, but I really do enjoy the new location. I get to greet new people and see all of the bustle out on the street through the big windows!
As the official greeter, my number one job is to greet everybody who comes into the shop! I love my job! Sometimes I get tired and have to take a break, just like any worker. If I don't greet you when you come in, please know that I like you even if I'm off taking one of my breaks.
I also like to play, especially tug of war with one of my favorite toys. I might ask you to play with me sometimes!